Response rate

100%

Response time

0-1h
See all tours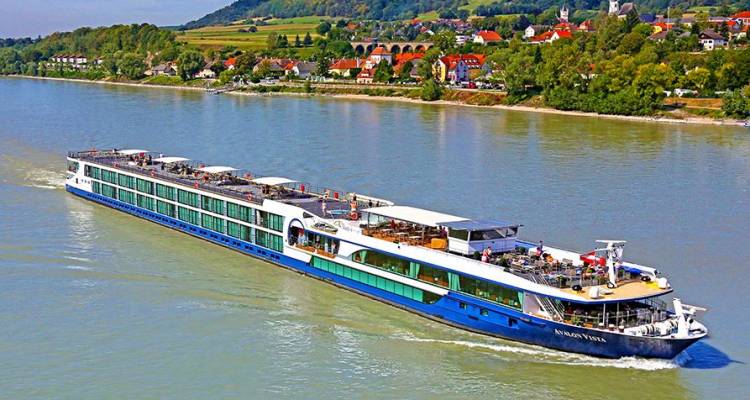 Ship Overview
Avalon Waterways, Europe's youngest fleet is being continuously updated with the latest and the best suite ships. Avalon Vista was added to the fleet in 2012. With 2 decks of suites offering panoramic views of the beautiful scenery with wall to wall windows, you will wake up every day to picture perfect sights, and even better, the open air balcony lets you enjoy the fresh, clean air of European countryside as you sail along. Comparable suite ships have 30% smaller rooms than Avalon's Panorama Suites. Your enjoyment in a relaxed, luxurious environment is of utmost importance to Avalon. Amenities on the ship include an excellent Sky Bistro, a whirlpool, trendy shade system, premium lounge seating on the Sky Deck, availability of free Wi-Fi, free use of computers available in public areas and a well equipped fitness centre.
Shade awnings on a spacious Sky Deck
Comfortable lounge seating on the Sky Deck
Panoramic wall-to-wall windows
Elevator
Interiors that are non-smoking
A well equipped fitness centre
A friendly Cruise Director
Certified local guides for your sightseeing trips
A friendly crew who can speak English
Guided excursions on European shore with headsets
Viewing deck outside the suite
A modern, beautiful and elegant design
Choice of activities onboard including evening entertainment and lectures
Modern technology
Movie evenings
Free internet access with Wi-Fi
Hair salon offering manicures
Public computers in common areas for free use
Whirlpool on the Sky Deck
Beverages and continental breakfast served in-room at an additional service charge
Biking expeditions in beautiful Durnstein and Amsterdam
Walking sticks Nordic style
Options in sightseeing – Independent, Traditional or Leisurely
Ship tour of behind the scenes activity
Experiencing Avalon Choice cruising
Panorama Bistro offering excellent light meal options for lunch and dinner
Free use of bicycles around port town areas
Game area for relaxation on the Sky Deck
Regional wine and specialities at the Panorama Bistro
Experts offering you suggestions on personalising your trip to your convenience
Free movies and entertainment channels on flat screen TV
Experiencing local favourites through artisans, entertainers and expert chefs
Selection of fresh fruits daily
A well stocked reading library
Free coffee, hot chocolate and tea at the self service beverage station
Recommendations on local cuisine, culture and customs to enhance your experience
Staterooms / Suites
Avalon Deluxe Stateroom (Cat. D, E) - 172 sq. ft.
Panorama Suite (Cat. A, B, P) - 200 sq. ft.
Royal Suite - 300 sq. ft.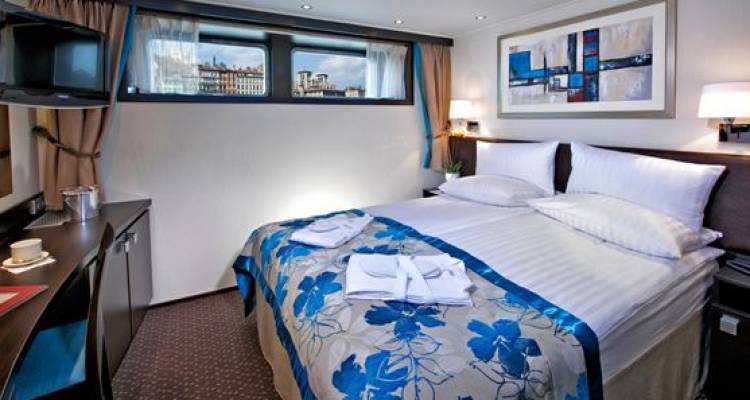 Features
Super-combed cotton linen from Egypt for extreme comfort
Relaxing Comfort Collection Beds
Alarm clock
Free water supplied in bottles
Slippers and soft bathrobes
Plenty of storage under the bed for luggage
Premium bath products from L'Occitane
Lamps for reading and bedside tables
Bed configuration options
Firm, comfortable pillows
Writing table
Vanity
Beautiful shower area with glass door
Free in-room Wi-Fi
Beautiful interior design
Safe for your valuables in-room
A mini bar that is well stocked
Phone with direct-dial facility
Movies and entertainment channels on flat screen television
Plenty of shelf storage for your stuff in a 3 door closet
Hair dryer
Prompt turn down service every night
Additional blankets available
Duvets, European-style
Mattress toppers with memory foam for ultimate comfort
A large bathroom mirror
Individual air-conditioning with climate control
Two windows offering you beautiful views of the European countryside
Dining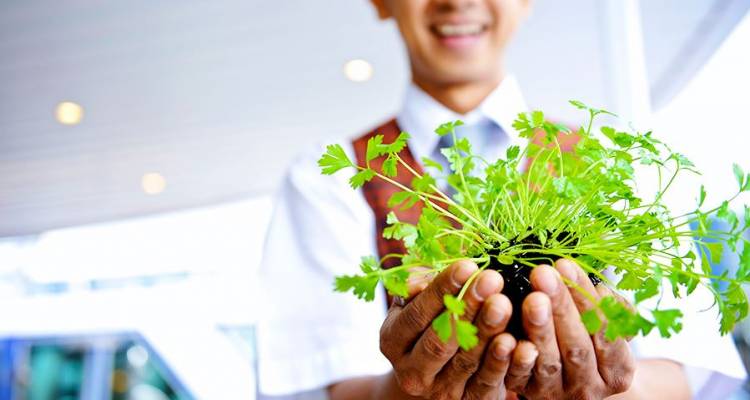 A special dinner to welcome you
Captain's welcome with canapés and sparkling wine
Sample your destination's favourite delicacies
Tea or coffee post dinner
Regional wine and tasty specialities at the Panorama Bistro
Light meal options for lunch and dinner at the Panorama Bistro
Healthy cuisine for the health conscious
Premium spirits to liven up your day at the Upscale Bar
Breakfast (continental) and beverages served in room (service charges additional)
Night fare served after 10.30 PM
Soft drinks, beer or wine served free with daily dinner (and with lunch from 2017)
Excellent choice of entrees, salads, soups, appetizers, cheese and desserts with a sumptuous dinner
Onboard meals offering delicious regional and western cuisine
Local ingredients sourced freshly used in cuisine to give you a seasonal flavour
Drink specials and social hour at the Panorama Lounge
Sweets, snacks, coffee and tea post lunch
Buffet breakfast with high energy, low fibre, low fat, low calorie and low cholesterol dishes
Enjoy Sky Deck views with cocktails
Sky Deck featuring Sky Bistro
Pasta and carving stations with a lavish lunch buffet
Free juices to energize your day
Egg station (made-to-order) and sparkling wine with an excellent breakfast buffet
Special breakfast for early and late risers
Open, spacious dining area
A huge 5 course spread for farewell dinner
Self service beverage kiosk for free premium coffee, tea and hot chocolate
Avalon Fresh, featuring fresh, delicious and nutritious dishes with local ingredients added to the cuisine in 2017