Response rate

100%

Response time

0-1h
See all tours
Ship Overview
The river cruising industry's transformation into an ultra luxury holiday experience happened sometime in the year 2011 when Avalon Waterways introduced the Avalon Panorama into its fleet. This well designed suite ship was the first among many to feature Wall-to-Wall windows in-room offering stunning views of the European riverside. The open air balcony from the suite lets you enjoy the fresh air from outside. Panorama Suites at about 200 sq. ft. is approximately thirty percent bigger than comparable ships in the industry, giving you a luxurious, comfortable living space. Some of the onboard features include Sky Bistro offering delicious food, whirlpool, a cool shade system on the deck, premium lounge seating on the Sky Deck, well equipped fitness centre, a reading library for all, free Wi-Fi internet and complementary use of computers in common areas.
Viewing deck outside
Modern, elegant design
Whirlpool on the Sky Deck
Panoramic Windows wall to wall with beautiful views outside
Aesthetic shade awnings on the Sky Deck
Comfortable premium lounge seating on the Sky Deck
English speaking staff
European land excursions with guided headsets
Elevator to travel between decks
Non-smoking interiors
A well equipped modern fitness centre
Esthetician services
Free use of computers available in common areas
At an additional fee, beverages and continental breakfast served in the room
Modern, hi-tech engineering
Entertainment, activities, lively lectures and movies every night onboard
Cruise Director
Certified guides for your ground tours
Cruising experience with Avalon Choice
Light meals for lunch and dinner at the Panorama Bistro
Explore port towns and cities with free bicycles rentals
Durnstein and Amsterdam biking excursions
Self service kiosk for premium coffee, tea and hot chocolate
Premium spirits at a hip upscale bar
Experience the best of local cuisine, culture and customs
Choice of fresh, nutritious fruits available daily
Free maps for the explorer in you
A well stocked reading library
Free Wi-Fi
Gaming area on Sky Deck
Panorama Bistro offering wines and tasty portions of regional specialities
Experts on board to help you personalise your cruise experience
100 free movies and many English entertainment channels on TV
Experts, local artisans, chefs and entertainers on board providing you flavours of your destination
Nordic walking sticks provided
Choose between independent, traditional or leisurely sightseeing options
Receive a tour of behind-the-scenes ship activity
Staterooms / Suites
Avalon Deluxe Stateroom (Cat. D. E) - 172 sq. ft.
Panorama Suite (Cat. A, B, P) - 200 sq. ft.
Royal Suite - 300 sq. ft.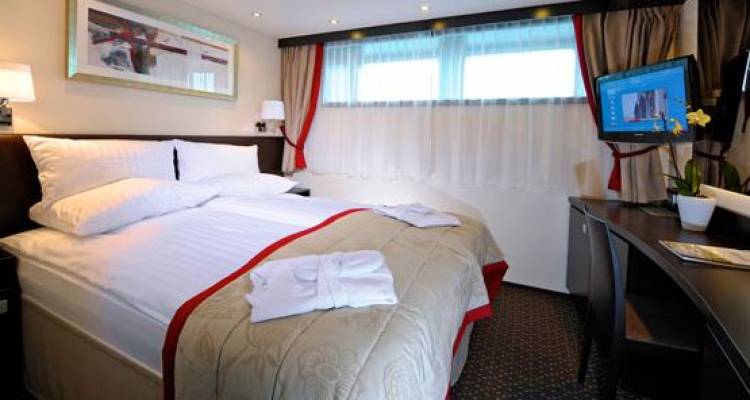 Features
Lovely, modern design
Desk
Comfort Collection Beds
Pillows that is firm, cosy and soft
Super combed linen made from Egyptian cotton
Convenient vanity
Glass door in shower area
A large bathroom mirror
Individually controlled air-conditioning
Free water bottles provided
Slippers and comfortable bathrobes
Trendy alarm clock
Storage under the bed for luggage
Premium bath products from L'Occitane
Double windows
In-room safe
Stocked mini-bar
Telephone for direct dial
Entertainment and movies on flat-screen television
Plenty of shelf storage in 3 door closet
Hair dryer
Prompt turn down service daily
Additional blankets available
Duvets – European style
Memory foam mattress toppers
Dining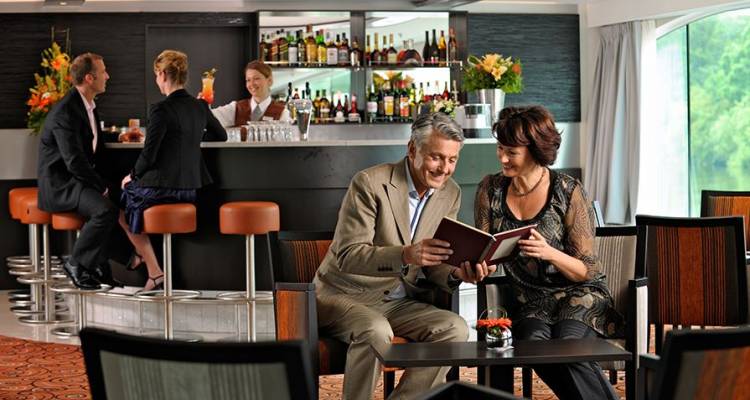 Experience the delicacies of your destination through tasting sessions
Delicious portions of regional specialities and wine at the Panorama Bistro
Grand welcome from the Captain with canapés and sparkling wine
Sumptuous dinner to welcome the guests on board
Avalon Fresh – cuisine that focuses on delicious, healthy recipes cooked with fresh ingredients (local ingredients to be introduced in 2017)
Premium coffee, tea and hot chocolate available at the complementary self-service beverage kiosk
Choice of late or early breakfast
Nutritious, healthy meal choices for the health conscious
Light meal options at the Panorama Bistro for lunch and dinner
Premium spirits served at the hip, upscale bar
Breakfast and beverages served to your room at an additional service fee
Nightly snacks made available at 10.30PM
Lunch served with free soft drinks
Free soft drinks, wine and beer with dinner (with lunch from 2017)
A sumptuous 4 course dinner with entrees, salads, appetizers, soups and cheese or desserts
Onboard meals featuring western and regional cuisine
Freshly sourced local ingredients to give you a flavour of the season
Drinks specials and social hour at the Panorama lounge
Sweets, coffee and tea in the afternoon
A wonderful variety of dishes for the breakfast buffet with generous portions
Enjoy excellent views with cocktails on the Sky Deck
Sky Deck featuring Sky Bistro
Pasta and carving stations with lunch
Free juices for daily recharge
Egg station (made-to-order) and sparkling wine with buffet breakfast
Open, spacious dining area
Lavish farewell dinner with 5 courses