Response rate

100%

Response time

0-1h
See all tours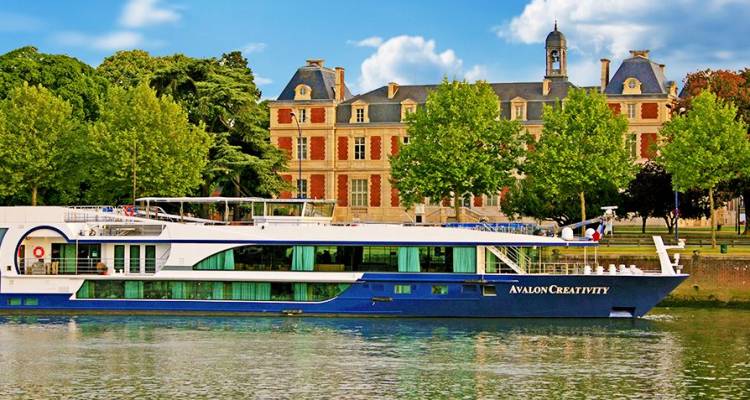 Ship Overview
Enjoy unmatched service, sumptuous cuisine, panoramic views, first-class amenities, and spacious staterooms as you cruise on the Avalon Creativity. Carrying a maximum of just 140 passengers, the Creativity offers staterooms that are a full 15% larger than the industry standard-with floor-to-ceiling windows on two decks-so you'll be comfortable, relaxed, and fully engaged with the passing countryside. From a Fitness Center and hair salon to complimentary computer use in public areas and free Wi-Fi access throughout the ship, the Creativity was built with an impressive collection of remarkable amenities to enhance your journey. The whirlpool on the Sky Deck allows for a refreshing dip after a day of sightseeing, while the self-serve beverage station serves up complimentary premium cappuccinos, lattes, hot chocolate, teas, and more throughout the day.
Wide-angle viewing windows
Relax in comfortable loungers protected by awnings on the Sky Deck
Stroll along the open Sky Deck feeling the cool river breeze
Luxurious whirlpool at the Sky Deck
Smoke free zone across all interior spaces
Room elegance balances contemporary design
Headphones provided during onshore sightseeing
Elevator access on all decks
Experienced and approachable Cruise Director
Professional guides who have knowledge of local customs
Multi-lingual crew - English spoken by all
Fascinating trivia and information presentations
Entertaining performances nightly
Special cinema nights
Cycling tours on complimentary bicycles
Nordic walking - complementary poles provided
Personalize onshore excursions - go on your own or in a group accompanied by a guide
Complimentary Internet access
Free use of computers in the public areas onboard
Wide genre of 100 English movies via TV channels
Complimentary self-service coffee, tea and hot chocolate
Culinary delights prepared by local, onboard chefs
Iconic cocktails and great conversations in up-market bar
Fresh fruit juice available all day long
Fitness zone
Hair styling parlor with manicurist
On-deck game zone
Best-sellers and other book titles in library
Staterooms / Suites
Avalon Deluxe Stateroom (Cat. E) - 172 sq. ft.
Avalon Deluxe Stateroom (Cat. A, B, P) - 172 sq. f
Avalon Suite - 258 sq. ft.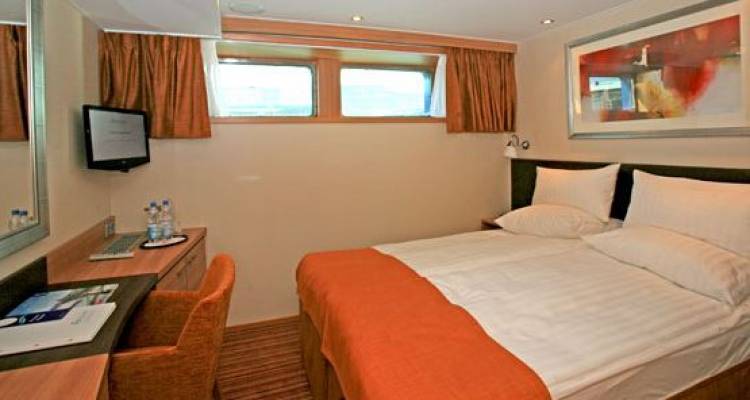 Features
Comfortable and elegantly designed stateroom
Desk with comfortable chair
3-door closet with shelves adequate for cruise storage
Additional storage under the bed
Telephone with direct dial capability
Built-in safe for personal valuables
Satellite television with movie channels on flat screens
Stateroom climate control
Signature Comfort Collection beds with a memory-foam mattress topper
Configure beds according to requirement
Comfortably soft and sturdy pillows
European duvet bedding system
Additional blankets available on request
Egyptian finely combed premium cotton linen
Excellent nightly turndown service
Bedside nightstands with reading lamps and alarm clock
Glass door slider for full shower in the bathroom
Large bathroom mirror
Bath products by L'Occitane
Vanity desk and hair dryer
Bathrobes available
Snug pair of slippers
Fully stocked minibar
Free bottled water replenished every night
Deck Plans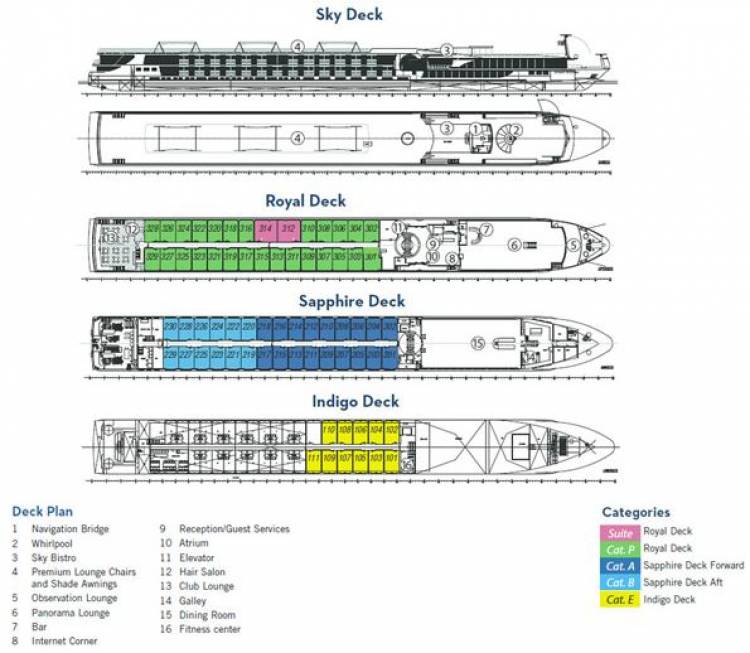 Dining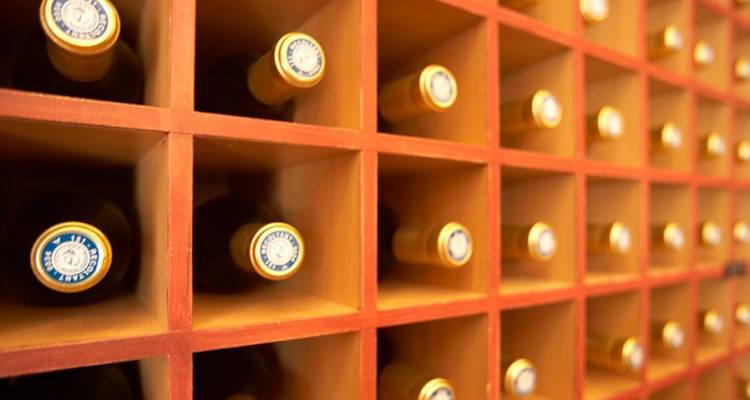 Enjoy the goodness of nutritious healthy ingredients cuisine in our 2017 introduction called Avalon Fresh
Fresh ingredients sourced locally
Healthy cuisine featuring low fat, high fibre and low cholesterol
Seasonal and regional cuisine choices
Dining room is large with open seating
Cuisine features Western as well as regional specialties
Sky Deck bistro –the perfect place for lunch
Buffet lunch featuring pasta and carving counters
Four course dinner featuring a wide selection of dishes
Enjoy complimentary beer or wine with dinners
Taste local delicacies in the region
Breakfast caters to both early risers and late risers
Healthy breakfast buffet spread with sparkling wine and eggs-to-order
Breakfast room service (Continental with service fee)
Inviting and relaxing welcome dinner
Reception with canapés and wine hosted by the Captain
Tasty five course farewell dinner
Late night spread at 10.30 pm
Cocktails served at the Sky Deck
Panorama bar serves drinks and offers special hours
After dinner coffee and tea
Light meal alternatives