Response rate

100%

Response time

0-1h
See all tours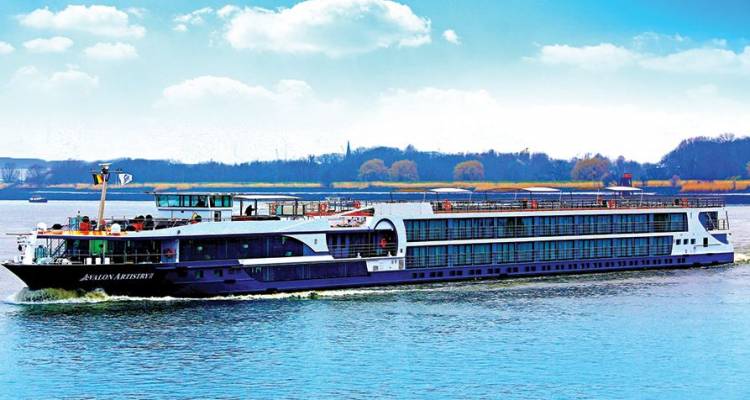 Ship Overview
The year 2013 saw the addition of another luxury suite ship to the impressive Avalon fleet. The Avalon Artistry II is aptly named for its artistry in terms of elegance and performance. From intimate dinners to large parties, it's all possible with the additional 30% of space in the Panorama Suites, which extend to 200 square feet. The Panorama Suites occupy two full decks and a defining feature is the Panoramic Windows with a wall-to-wall reach. This seamlessly transforms an indoor space to an invigorating Open-Air Balcony. Luxury in being able to wake up to fresh river breezes and an ever-changing scene outside the window. The Avalon Artistry II is packed with creature comforts such as a fitness center, free computer access and Wi-Fi, and a Sky deck with best quality check chairs, a whirlpool and Sky Bistro.
Capable Cruise Director
Able crew who speak English
Hair salon with manicures
All interiors are non-smoking
Spacious and modern gym
Behind-the-scenes tour of the ship
Elevator
Modern and timeless design
Outer deck for viewing
Top-of-the-line engineering
Sky Deck with ultra luxury lounge chairs and whirlpool
Games area in the Sky Deck
Good library for light reading
Complimentary maps
Complimentary computer and Wi-Fi use
Panoramic Windows across walls
Shaded Sky Deck
Full feature movie nights onboard
Entertainment, talks and games onboard
Television with English channels and 100 free movies
Panorama Bistro lunches and dinners
Room service available for beverages and continental-style breakfast, with an added service fee
Free tea, branded coffee and hot chocolate at self-service counters
Locals such as chefs, artists and experts brought onboard
Personalization services available to recommend and reserve unique experiences
Tasting portions of local cuisine and wines at the Panorama Bistro
Fresh fruit available all day
Headsets for all excursions in Europe
Certified Local Guides
A cruising experience enhanced by Avalon Choice
Biking sightseeing trips in Amsterdam and Breisach
Free bicycles for use in port towns
Choice of sightseeing options such as independent, traditional or slow-paced
Nordic walking sticks
Selected favorite experiences of local cultures, customs and cuisine
Staterooms / Suites
Avalon Deluxe Stateroom (Cat. D, E) - 172 sq. ft.
Panorama Suite (Cat. A, B, P) - 200 sq. ft.
Royal Suite - 300 sq. ft.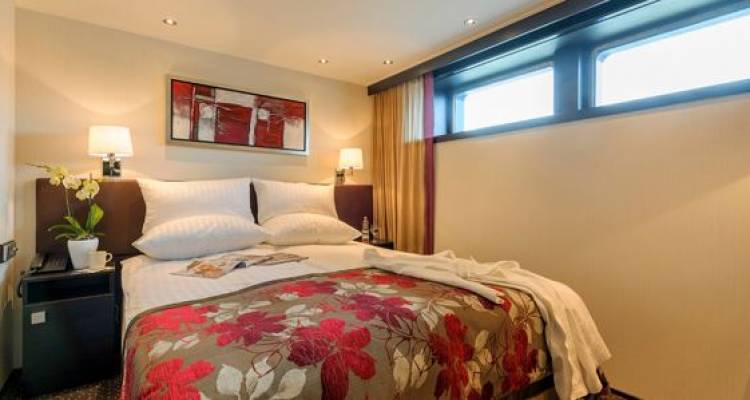 Features
Bathrobes & in-room slippers
Comfortable pillows
Alarm clock
In-room safe
Shower with a door made of glass
Easy storage of luggage under the bed
Free bottled water
Free high speed Wi-Fi
Storage provision with 3-door closet and shelving
Hairdryer
Minibar with the best brands
Mattress toppers with premium memory foam and duvets with an European design
Two windows
Vanity
Additional blankets and bed making every night
Linens made of best quality combed Egyptian cotton
Comfort Collection Beds
Telephone with direct-dialing
Adjustable climate control
Bedside reading made easy with tables and lamps
Large bathroom mirror
Different configurations for the beds
Movie channels and flatscreen television
Bath products from the premium L'Occitane brand
Elegant and stylish design
Writing desk
Dining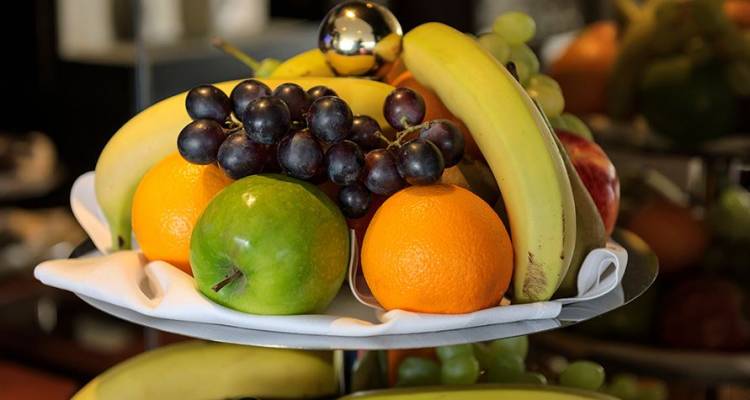 Sky Bistro out on the open Sky Deck
Free and healthy juices
Open-seating dining with spacious floor plan
Post-dinner tea or coffee
Special breakfasts for early and late risers
All meals with a focus on healthy food
Healthy breakfast buffets with low cholesterol, calorie and fat content
Choice of Western and local cuisine at all meals
High afternoon tea
Dinner (and lunches from 2013) accompanied free soft drinks, wine or beer
Sparkling wine and live egg counter with the buffet breakfast
Night Fare at 10:30 pm
Top tier spirits at the bar
Light and healthy lunches and dinners at the Bistro on the Sky deck
Avalon Fresh featuring recipes using only fresh and local ingredients from 2017 onward
Cuisine with a strong seasonal focus
Food samplings of the best the region has to offer
Cocktails under the stars out on the Sky Deck
Regional Food and wine samplings in small portions at the Panorama Bistro
Carvings and pasta stations included with lunch
Continental breakfast and beverages as room service (service fee applicable)
Help yourself to free tea, exotic coffees and hot chocolate
Free soft drinks during lunch
Welcome dinner
Sparkling wine, canapés and other delicacies at the Captain's Dinner
Farewell dinner extending over five courses
Drink at special discounts at the Panorama Lounge
Indulgent four-course dinners with a selection of appetizers, soups, salads, entrées and desserts or cheese