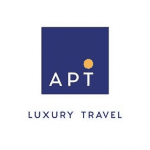 Response rate

100%

Response time

0-1h
See all tours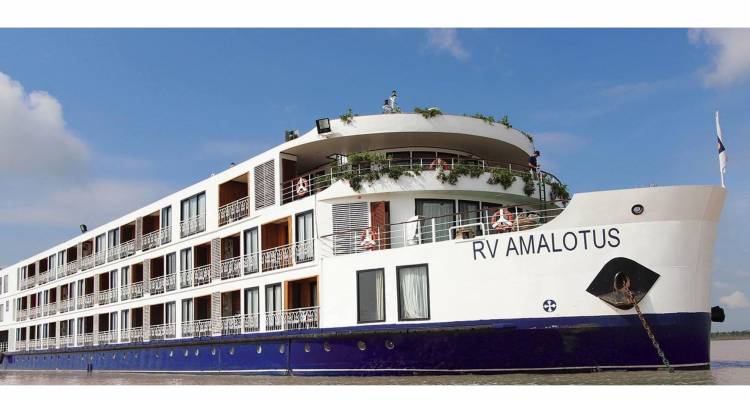 Built

2011 (refurbished in 2016)

Guests

108
Crew

50

Length

92.5m
Suites

54

River
Ship Overview
The RV AmaLotus is one of the most luxurious river ships cruising on the Mekong River. Experience Vietnam & Cambodia River Cruising in luxury on an all-inclusive cruise.
The AmaLotus features large public areas for you to relax and enjoy your journey, including an air-conditioned lounge connected with the Sun Deck and Wellness Centre.
Dedicated Staff
Your Expert APT Tour and Cruise Director - Our professional APT Tour and Cruise Directors are friendly English-speaking locals who possess amazing knowledge. With a reputation as the best in the business, they are always on hand to ensure your experience is unforgettable.
Local Guides, Local Insight - In addition to your APT Tour Director, you'll be joined in most locations by English-speaking local guides. Enjoy in-depth commentary and gain a deeper insight into markets, towns and intriguing cultural icons.
Exceptional & Friendly Crew - With almost one staff member to every two guests on the RV AmaLotus, you'll experience an intuitive, friendly and gracious style of service. Led by a dedicated on-board Hotel Manager, our on-board hospitality staff bring great knowledge and vast experience in their respective areas.
Private Butler Service: Silver Butler Service - Guests in Sadec Twin Balcony Suites will enjoy our Silver Butler Service, which includes: the laundering and pressing of two garments per day; shoe shining; booking of appointments; one spa treatment per person per cruise; and a fruit platter daily.
Private Butler Service: Gold Butler Service - Guests in Owner's Suites will enjoy our Gold Butler Service, which includes: laundering and pressing of four garments per day; daily fruit platter and pre-dinner canapés; shoe shining; tea & coffee service; booking of appointments; packing and unpacking service; bottle of champagne and one spa treatment per person per cruise.
Overseas Medical Assistance - As an APT guest, you can put your mind at ease knowing you can access: experienced Vietnamese and expat doctors, medical advice over the phone, medical referrals, arrangement of hospital admission and emergency medical evacuation.
Stylish Social Spaces
Large Sun Deck with Swimming Pool - A delightful space to relax ,so you can enjoy the passing riverside views in comfort.
New and exclusive! Indochine by Luke Nguyen - Delight in an intimate culinary journey of exceptional Vietnamese cuisine with only 18 guests in the private dining room. Renowned chef Luke Nguyen will personally design a special degustation menu exclusively for APT guests.
Le Viêt Nam Café - Enjoy afternoon tea in this stylish French-inspired cafe, on the Sadec Deck. With large windows which allow you to take in the passing views, the air-conditioned Le Viêt Nam Café combines elegance with a relaxing atmosphere.
Lotus Spa & Wellness Centre - Take advantage of a range of hair and beauty treatments, enjoy a blissful massage, or keep up with your fitness routine with the use of a range of gym equipment.
Saigon Lounge & Bar - Enjoy a drink, take in the views and relax in air-conditioned comfort in the main lounge. By night, enjoy a range of entertainment.
Mekong Restaurant - Embellished with a level of finesse that's unique to our ship, the Mekong Restaurant is a truly stylish dining area.
On-Board Entertainment
Insightful Presentations - local guides will deliver personal, fascinating presentations that you're able to attend as you choose. Learn about the golden age of Cambodia during the Angkor period, as well as the tragedy of the Khmer Rouge regime. Gain insight into Cambodia's modern-day culture and uncover the regional history behind the Vietnam War. Local customs, beliefs and traditions are also unearthed, enhancing your appreciation of the places you'll visit.
Fruit-Carving Demonstration & Cooking Class - Decorative food is a big part of Vietnamese food culture. On board, enjoy a fruit-carving demonstration by one of the ship's chefs, and learn the secrets of making the region's famous delicacy – Vietnamese Spring Rolls.
Music on the Mekong - On select evenings, the Saigon Lounge & Bar hosts a diverse program of cultural performances, offering you a glimpse into the arts and traditions of the region you're visiting. Throughout the entire cruise, a pianist will be quietly playing soothing local music as well as some old favourites.
Traditional & Interactive Evening of Khmer Dance - Enjoy a traditional Khmer folk performance and listen to unique music that's local to the Mekong Delta region. This evening is all about you getting involved – you can even join in the dance if you wish. During another interactive evening, your multi-talented crew will show off their performance skills.
Movie Nights in Your Suite & the Saigon Lounge - Each night presents the chance to take in a film on the television in your suite. In addition to a selection of films available to borrow on DVD, you're able to enjoy movies and documentaries that are based on the very regions you're in.
Large Sun Deck with Swimming Pool
Le Viêt Nam Café
Lotus Spa & Wellness Centre
Saigon Lounge & Bar
Mekong Restaurant
Staterooms / Suites
Deluxe Twin Balcony Suite (226 ft²/ 21 m)
Sadec Twin Balcony Suite (290 ft²/ 26.9 m)
Owner's Suite (624 ft²/ 58 m)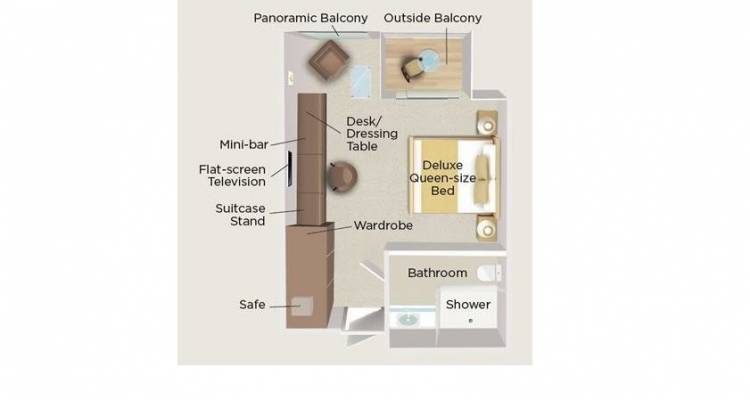 Features
Cat. C, B, B+ & A
Tonle Deck
Saigon Deck
Spacious ensuite with a hairdryer, bathrobes, slippers and toiletries in all suites
Outside Balcony
Panoramic Balcony
Individual climate control in all suites
Large amount of space per guest
Dining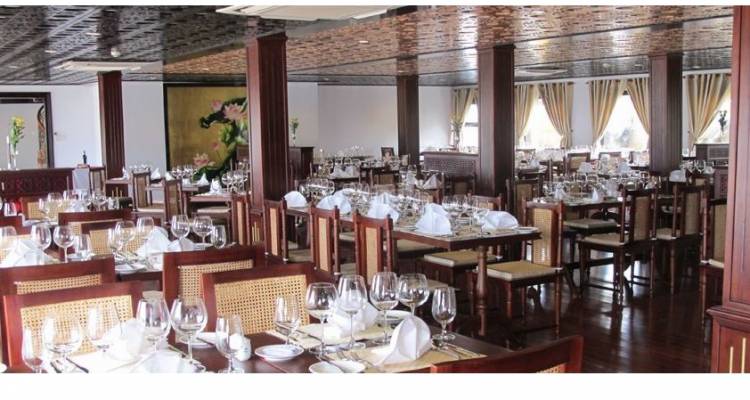 Exquisite Onboard Dining -for a delicious taste of local cuisine, all meals, including a Champagne Breakfast each day, are included during your Mekong River cruise. While each meal presents the chance to dine on exotic Asian fare, Western favourites are always available. An Executive Chef will oversee the kitchen in which each gourmet meal is prepared, while a Restaurant Manager is on hand to ensure attentive service in the Mekong Restaurant.
APT EXCLUSIVE! - Luke Nguyen Welcome Dinner During your Mekong River cruise, you'll indulge in a three-course Vietnamese Welcome Dinner designed by Luke.
APT EXCLUSIVE! - Luke Nguyen Degustation Dinner, APT Ambassador Luke Nguyen will personally design a five-course degustation menu exclusively for APT guests. You'll savour this dining experience amid the elegant surrounds of Indochine by Luke Nguyen, a private dining room onboard the RV AmaLotus.