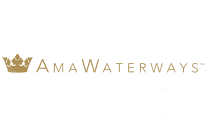 Response rate

100%

Response time

0-1h
See all tours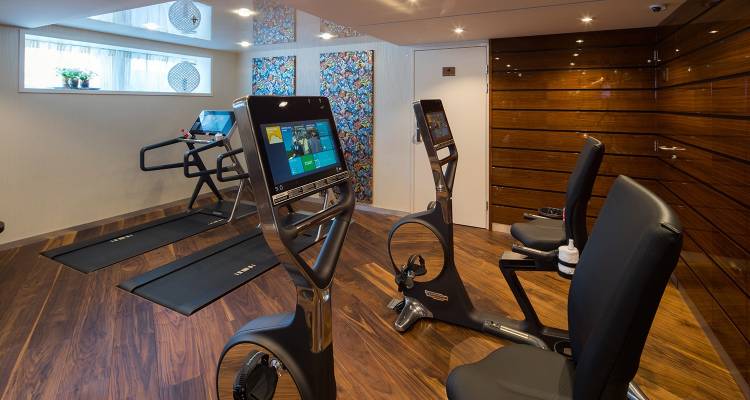 Ship Overview
In 2017, the brand new, exquisitely designed AmaKristina will join her sister ship AmaViola on European rivers. Featuring AmaWaterways' signature twin balconies (a French balcony and a separate step-out balcony), this meticulously crafted river cruise vessel includes seventy nine well-appointed staterooms and suites ranging in size from 210 sq. ft. to 350 sq. ft. On board, lucky guests can indulge in fabulous Chaîne des Rôtisseurs gourmet menus with complimentary beer and wines. They can unwind in comfortable lounges, revel in breathtaking scenery on the sun-kissed Sun Deck or take a refreshing dip in the tantalizingly heated swimming pool that also has a swim-up bar. For those who wish to rejuvenate with wellness and beauty services from expert staff, the ship offers a spacious hair salon. Guests are pampered with entertainment and free high-speed Internet/Wi-Fi throughout the vessel. Bicycles are stored on the AmaKristina for guided onshore excursions and independent tours.
Fabulous multi course meals featuring exclusive Chaîne des Rôtisseurs cuisine and regional delicacies at the main restaurant and at the intimate Chef's Table.
Delightful tapas offerings can be ordered between meals in the main lounge.
Exquisitely furnished staterooms and suites featuring innovative twin balconies – a full length French balcony and an outside balcony with views of tranquil scenery.
Inviting public spaces such as the main lounge with bar where guests can join fellow passengers in a relaxing ambience.
Free bicycles on board for guests who want to immerse in the history and culture of Europe during guided or independent onshore excursions.
A marvellous Sun Deck with shade where guests can de-stress or make a splash in the heated swimming pool that features a cosy swim-up bar.
Efficient and effective wellness services at the ship's massage and hair salon.
A well-equipped fitness room so guests don't have to forfeit their fitness regimen as the ship sails from one beautiful destination and another.
A variety of onboard entertainment in the form of mesmerizing music programs and engaging cultural performances from local groups.
Staterooms / Suites
Suite Violin Deck Balconies, 350 sq. ft.
Category AA Violin Deck Balconies, 235 sq. ft.
Category AB Cello Deck Balconies, 235 sq. ft.
Category BA Violin Deck Balconies, 210 sq. ft.
Category BB Cello Deck Balconies, 210 sq. ft.
Category CA Violin&Cello Deck Balcony, 170 sq. ft.
Category CB Violin Deck French Balcony, 155 sq.ft.
Category D Piano Deck Fixed Windows, 160 sq. ft.
Category E Piano Deck Fixed Windows, 160 sq. ft.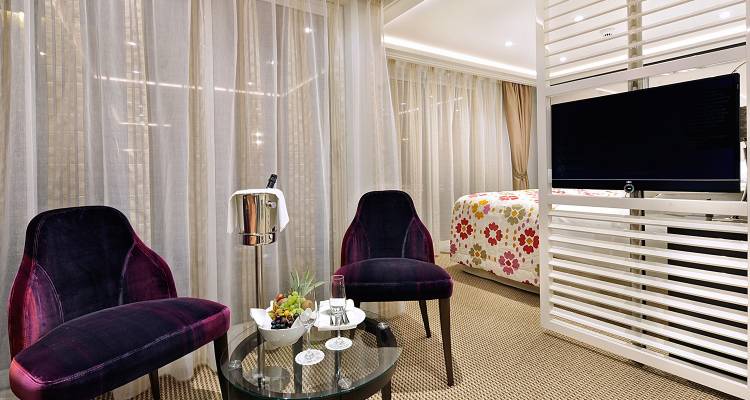 Features
Luxurious stateroom provided with a French balcony and Outside balcony
Spacious bathroom
Multi-jet showerheads system
Egyptian cotton linen bedding
Duvet with a down pillow menu
Generous space dedicated to the wardrobe
A full-length mirror
Wooden desk
Chair
Music library with TV
Flat TV screen which may be used as a desktop computer
Personal safe for the secure storage of valuable items
Phone service through direct dial
Hair dryer with complimentary cozy bathrobes and comfy slippers
Wi-Fi service
Individually controlled temperature levels
Bottled water restocked everyday