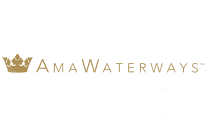 Response rate

100%

Response time

0-1h
See all tours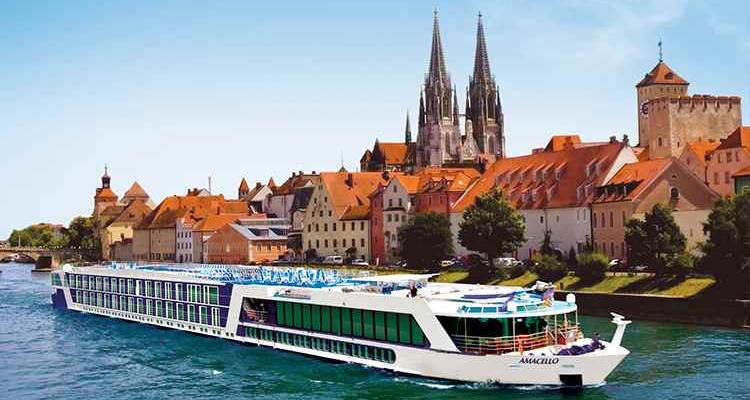 Ship Overview
Debuting in 2008, the 360 feet long AmaCello offers an elegant and immersive river cruise experience. As soon as you step onboard, you will be struck by her bright interiors, decorated in vivid hues of orange and gold. Guests can retire into exquisitely appointed staterooms ranging in size from 170 sq. ft. to 255 sq. ft. and enjoy quality amenities they would normally find in plush hotel accommodation. Outside the staterooms, guests can savour freshly prepared gourmet cuisine in the ship's many restaurants or relax in stylish public spaces. During the day, guests can enjoy the classic European countryside that lines the riverbanks, lounge on the all-weather Sun Deck with has a walking track and a whirlpool, visit the intimate fitness room or explore onshore attractions by bike, during port calls. By evening, passengers can sit back and enjoy live entertainment under a moonlit sky – a perfect recipe for an unforgettable vacation.
Lush and spacious staterooms with quality amenities which include a marble clad bathroom.
Most rooms feature panoramic French balconies that offer breathtaking outside views.
Varied and delicious food which includes Chaîne des Rôtisseurs culinary creations and regional favourites are available at multiple restaurants.
Appetizing tapas can be ordered between meals at the picturesque main lounge.
Richly decorated public spaces such as lounges, library and reception area that are never overtly crowded at any given point of time.
A fleet of bicycles is kept on board to give guests an opportunity to explore onshore attractions during guided planned tours and self-guided excursions.
An inviting Sun Deck and whirlpool that allow guests to unwind against the backdrop of medieval towns, enchanting European countryside and other stunning sceneries.
A well-equipped hair salon so guests can enjoy attentive beauty services and revitalizing massage services.
A state of the art fitness room featuring a wide variety of gym equipment so guests can energize themselves on vacation.
A broad range of evening entertainment including lilting piano renditions, traditional music and live performances by local groups.
Reliable high speed Internet access and Wi-Fi at no extra cost.
Staterooms / Suites
Suite Violin Deck French Balcony, 255 sq. ft.
Category A Violin Deck French Balcony, 170 sq. ft.
Category B Violin&Cello Deck Balcony, 170 sq. ft.
Category C Violin&Cello Deck Balcony, 170 sq. ft.
Category D Piano Deck Fixed Windows, 170 sq. ft.
Category E Piano Deck Fixed Windows, 170 sq. ft.
Single Cello Deck French Balcony, 140 sq. ft.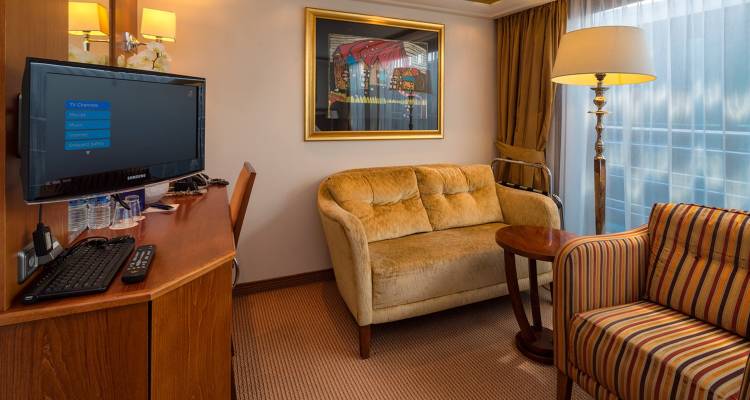 Features
Thermostat controlled air conditioning
Spacious bathrooms featuring fine bath products and sophisticated showerheads
Plenty of apparel storage space in a roomy wardrobe
Direct telephone connection, hair dryer, secure safe and large size mirror
Comfortable hotel style bed with 100% Egyptian cotton linen, snug duvet and soft down pillows
Sleek flat panel TV set that operates as computer
Eclectic infotainment which includes English satellite TV channels
Exclusive on-demand Hollywood movies and music library
Reliable and fast internet / Wi-Fi free of cost
Sitting area with wooden writing desk and comfortable chair
Complimentary bottle of water on a daily basis