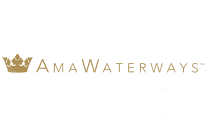 Response rate

100%

Response time

0-1h
See all tours
Ship Overview
Debuting in 2016, the custom built AmaStella is identical to the AmaSerena and is one of AmaWaterways' family-friendly river cruise vessels. She features impressive twin balconies – a floor to ceiling French balcony and an exclusive open balcony with panoramic views in most of her plush staterooms and suites measuring 210 sq. ft. to 350 sq. ft. in size. The AmaStella provides specialty dining experiences including Chaîne des Rôtisseurs menus with free flowing wine and intimate tasting sessions with an expert chef. The ship features tastefully decorated public spaces, a relaxing Sun Deck with heated swimming pool and swim-up bar, hair salon with beauty and spa services and a state-of-the-art fitness room. Guests can also enjoy reliable Internet/Wifi free of cost, varied in-room entertainment options and complimentary bicycles for guided or independent onshore excursions so there's plenty to keep them occupied as the ship sails past the serene and breathtaking countryside that lines Europe's historic rivers.
Stunning views and bright interiors in luxurious staterooms and suites outfitted with two balconies – a full French balcony and an additional outside balcony.
Diverse dining venues such as the Chef's Table eatery and the main restaurant that offers gourmet masterpieces and cuisines inspired by local flavours.
Delicious light snacks can be ordered in between lunch and dinner at the main lounge.
A limited number of guests on board and spacious public areas such as the main lounge make it easier for guests to relax or mingle with fellow passengers.
Ready-to-use bikes onboard so guests can explore Europe's rich culture and landscapes during guided or non-guided onshore outings.
A panoramic Sun Deck equipped with a heated swimming pool and swim-up bar to enjoy glorious sunshine, swim some laps or sip on a delicious cocktail.
The massage and hair salon offers an array of spa treatments with attentive service for guests who want to be pampered and rejuvenated.
A well outfitted fitness room featuring a variety of equipment so guests can stay in shape during the cruise.
Varied schedule of onboard evening entertainment including lilting music as well as enthralling performances by visiting groups.
Staterooms / Suites
Suite Violin Deck Balconies, 350 sq. ft.
Category AA Violin Deck Balconies, 235 sq. ft.
Category AB Cello Deck Balconies, 235 sq. ft.
Category BA Violin Deck Balconies, 210 sq. ft.
Category BB Cello Deck Balconies, 210 sq. ft.
Category CA Violin&Cello Deck Balcony, 170 sq. ft.
Category CB Violin Deck Balcony, 155 sq. ft.
Category D Piano Deck Fixed Windows, 160 sq. ft.
Category E Piano Deck Fixed Windows, 160 sq. ft.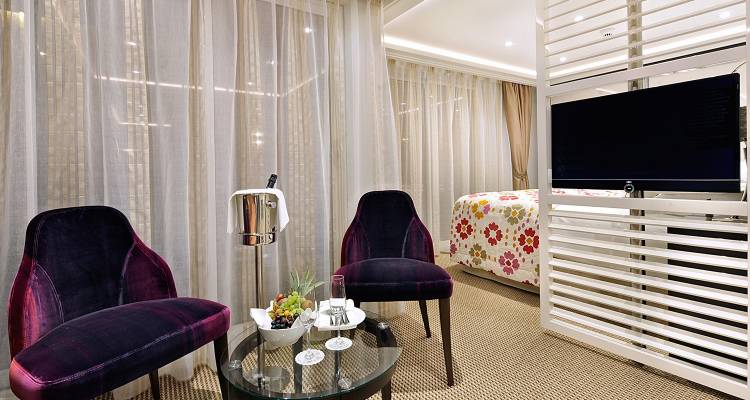 Features
Features a French balcony and an outside balcony
Bathroom with a multi-jet showerheads system
Comfortable bed provided with soft Egyptian cotton linen
A duvet and a down pillow menu
Large wardrobe with one full-length mirror
Wooden desk with chair
Varied music library and TV
Flat TV screen used as a desktop computer
Personal safe for the secure storage of valuable items
Phone service available
Hair dryer
Bathrobes
Slippers
Wi-Fi service
Individual temperature control
Bottled water