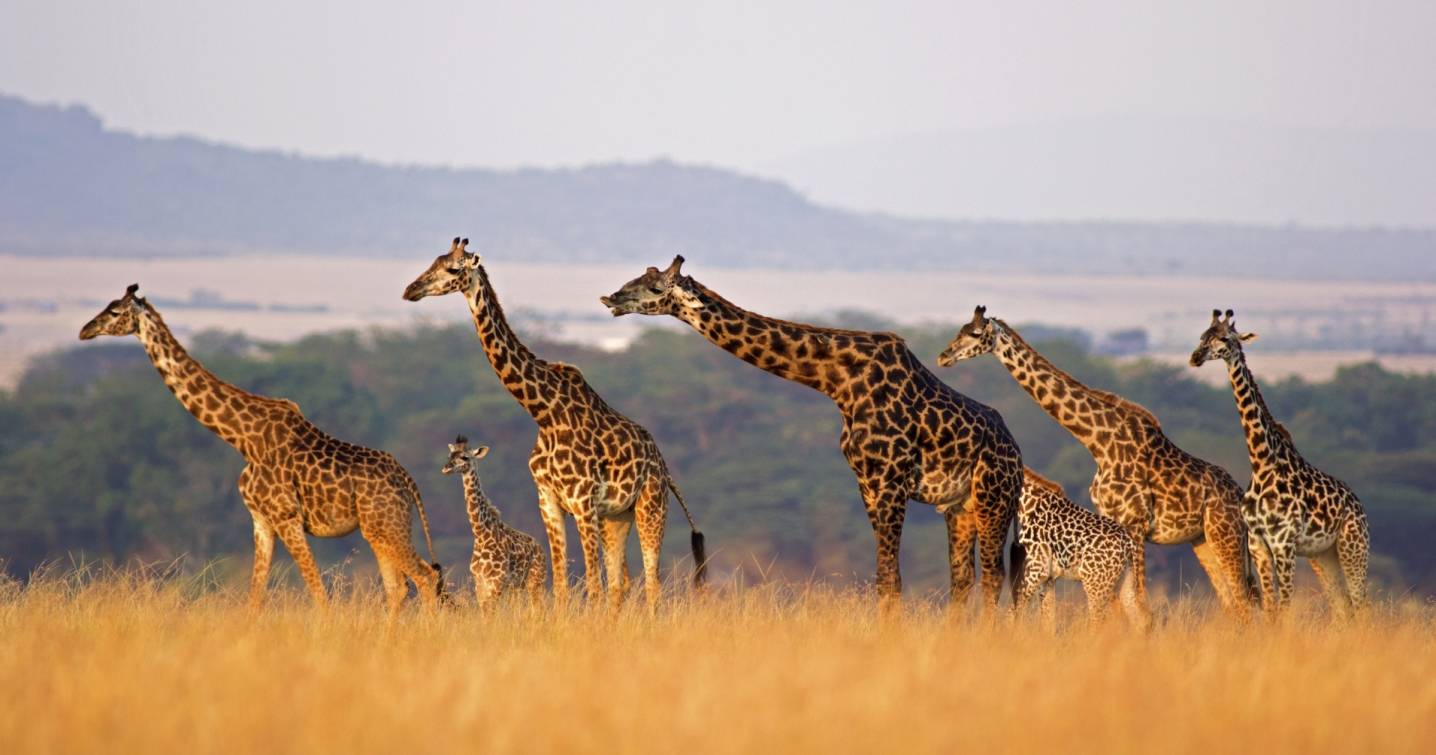 Abigail"The trip exceeded my expectations. Our guide Peter was amazing -he's an awesome cook, and made us 3 course meals. He was very knowledgeable and always had a smile on his face, even though he was working non stop. Our driver Steve was also awesome, especial..."
Absolute Africa Guides


With over thirty years of experience running safaris from London to Cape Town and living and working on the Continent, enjoy the thrills, laughs, smiles and challenges of Africa with us, knowing that our crew, staff and management are doing all possible to make your...
With over thirty years of experience running safaris from London to Cape Town and living and working on the Continent, enjoy the thrills, laughs, smiles and challenges of Africa with us, knowing that our crew, staff and management are doing all possible to make your safari memorable. In 1979 we crossed the Sahara Desert in a London taxi from Britain to Kenya. The company has grown from there and now operates 10 overland trucks in East and Southern Africa. Our choice of vehicle has changed whilst we retain the core idea of enabling passengers to experience Africa at an affordable price.
Read more
136 Absolute Africa Reviews
Excellent

84%

Good

13%

Average

2%

Rather Poor

1%

Bad

0%
Accommodation

4.5 / 5

Transportation

4.5 / 5

Meals

4.5 / 5

Value for money

5 / 5

Guide

5 / 5
Write a review
Rainforests and Reefs

Written on August 6, 2018

The itinerary covered an interesting variety of places and activities, but 1 or 2 days longer would be better, to shorten the long driving days. It was frustrat…

Read more

Absolute Africa commented on this review

Thank you for taking the time to leave a review. We are glad to hear you enjoyed the selection of highlights and options on your Rainforests and Reefs tour. The itinerary on this tour takes you from the forest home of the mountain gorillas, through Rwanda and the city of Kigali, before heading through rural Tanzania including the Serengeti and Ngorongoro Crater; then heading to the Indian Ocean coast and Zanzibar. This 17 day itinerary does suit many of our customers and there are inevitable long drive days required to link up the key places on this trip. There are also not many options for accommodation in the rural sections of this trip and so however long we made the trip, there would still be the need to have some long drives in certain sections. That being the case some of the camps we use are still quite basic as you experienced, and occasionally there can be power cuts or lack of water especially in remote areas like Kisoro. The roads too can present issues at times on an overland trip of this nature. Whilst our crew are experienced and well trained in mechanics, and the trucks are purpose built and always checked and maintained at our workshop prior to heading out on a trip, there will be unavoidable times when issues arise due to the poor road conditions on parts of the route, which are often off the beaten track, such as where your truck was in the Serengeti. At those times, we aways aim to resolve the issue as soon as possible in order to continue with the itinerary with as little interruption as possible, and on this trip we were able to provide a replacement truck as soon as your group came out of the parks to ensure there would be no further issues experienced on your trip. Thank you again for leaving your review and we will be sure to pass on your comments to Patrick and Nash who are always very pleased to hear of positive feedback from their passengers.

Georgia

Kenya & Tanzania

Our tour was amazing - from our cook Joseph, to our driver David and of course our guide for the duration of the trip Edmund who went absolutely above and beyon…

Read more

Absolute Africa commented on this review

Thank you very much for taking the time to leave a review, Georgia. So glad to hear of your enjoyment on your trip and looking forward to having you travel with us again in the future :)

The Garden Route

Great tour defiantly recommend. First two days in capetown are just your own stuff not really required to be on the tour by apart from that awesome! Expect big …

Read more

Absolute Africa commented on this review

Thank you for taking the time to leave a review of your Garden Route tour. We are glad to hear you had a great time on this fun, relaxed short trip with us :)

Northern Trails

I did the Northern Trails tour from Cape Town to Nairobi. This trip was absolutely incredible! We had Steve and Manache for the first half of the tour and Peter…

Read more

Absolute Africa commented on this review

Hi Kayla - thank you for leaving a review of your tour with us and we will let all of your crew know of your comments. We are happy to hear you enjoyed your trip so much and we would love to have you back on board in the future if you fancy returning to see Namibia!

African Sky

Written on December 11, 2017

The two of us (my wife and I age 32) were quite happy with the trip. The wildlife spotting was excellent and the people throughout Kenya, Tanzania, Rwanda, and …

Read more

Absolute Africa commented on this review

Thank you for taking the time to leave a review. We are glad to hear that you enjoyed the tour overall and particularly the wonderful wildlife for which Africa is so famous. The tips you have given are useful points and these we specifically outline in our pre-departure material to help clients prepare well for their tour. Our tour leaders are on hand throughout the tour to assist with suggestions of how much money will be required through each country and they are also always available to discuss any optional activity on offer en route. Estimated drive times are also detailed in our pre-departure information and we always aim to break up the necessary long drive days to cover the vast distances between the big highlights with shorter drive days and breaks in the itinerary, such as the drives in Rwanda and the few days spent in Kisoro. The African Sky is a concise programme which packs arguably all the key highlights of East Africa - the Masai Mara in Kenya, Serengeti and Ngorongoro Crater in Tanzania and the gorillas in Bwindi, Uganda - into a 15 day itinerary. Whilst this does require long drives, particularly from Tanzania into Rwanda, this does suit the majority of our clients who may often be time-poor and wish to see all these parks in a short space of time and at a very competitive price. We are sorry to hear of your disappointment with how your gorilla trek was organised. We have a partner in Kisoro who does assist in organising the gorilla trekking as this is his particular area of expertise and we haven't previously had issue with this arrangement. We fully appreciate that the gorilla trek is the top highlight for most of our passengers travelling in this region. We are committed to providing a positive experience on each trek and have very rarely had any negative feedback. Where only 8 people are allowed to trek one gorilla group at a time, it is quite a task for the staff at the park to ensure that everyone is in a group matching their specific expectations and, as the gorilla groups are constantly on the move as they please, trek timing is always variable too and cannot be guaranteed. Usually the main point of concern is that a group may not be found at all after hours of trekking. Where there are any issues though at all on a tour, it is usually best to notify the tour leader as well as the office at the earliest possibility so that we may look into the issue and assist where possible. We appreciate this would have been after the event, as the tour leader will not routinely go on the treks themselves. As a result of your comments though we will talk to our tour leaders to ensure that they are all aware of the need to brief the group prior to the trek day and provide more clarity around the nature of the treks. Thank you again for your review.

Gorillas and Game Parks

Written on November 30, 2017

The people on my tour were largely awful (trashy Ozzies and Brits you meet at hostels who think that they run the place) but that's not really the company's fau…

Read more

Absolute Africa commented on this review

Hi David, We were sad to read your comments. Our itineraries aim to present travel highlights in the best time frame possible at a great price, travelling remote as well as main tourist routes. In order to run a trip such as the Gorillas and Game Parks (featuring the gorilla parks and the Tanzanian game parks) we cover a lot of ground, these two highlights being around 800 km apart. There will necessarily be early starts and some big drives to fit this in the 13-day time scale. The drives to achieve this vary. Some are relatively short e.g. Kisoro and Musanze being about three hours, on occasion though they are longer. Less than perfect roads, delays at borders and a shortage of secure, suitable camp sites situated at appropriate locations all affect the day's drive. We are aware on your tour e.g. there was an unfortunate delay on the drive into Tanzania due to slower than usual immigration arrangements that day, as well as road deterioration following rain. On some drives too there are game drives locked in during which we view wildlife. We can leave early morning and head out later in the afternoon on these days as animals are most likely about at that time. This time in the truck can make for the feeling of longer drive days too. All this is part of the adventurous nature of the tours. Few, if any tour companies, do a tour with just these two main loved highlights, the mountain gorillas and Serengeti and Ngorongoro. Where tours have these highlights in the itinerary they usually end up doubling back on themselves through Kenya and so increase the mileage even more, and again have to take the price up in consequence. Our route then is different and our many travellers, over the years are usually happy and appreciative with all they have seen and done on this two week trip heading to remote and different destinations rather than revisiting what they have seen.This timescale suits most well, as do our competitive prices. As to the day to day drives themselves these allow some sense as to local life, as well as some beautiful and fascinating scenery on the way to the big highlights. Where possible we aim to keep a steady pace, and there are numerous special stops on this tour - the option to gorilla trek, where we also have free time to relax and/or for other optional activities, then Queen Elizabeth NP, the game cruise on the Kazinga Channel, the Grumeti, Serengeti and Ngorongoro Crater, the stay in Kigali where we visit the Genocide Memorial, the stop over with local activities like basket making and to make banana beer in Musanze and the option to trek chimpanzee in Kalinzu as well. Plus there is built in a local stay in a rural Tanzanian village where the children welcome you and love to show you around. Most days there is an activity included or available as an optional. All the above highlights and more are all presented faithfully, month on month, within a busy itinerary that still allows free time once you have reached your destinations. There are simple upgrades included in the price as well so you don't put your tent up every night, and then you can pay more most other nights to upgrade as well if you want to which I understand that you were able to do on a number of occasions. In regard to the daily cooking routine, how much needs to be done by the group for both dinner and breakfasts is often limited. Talking to your tour leader, out of the 13 days on this particular tour the group assisted with dinner preparation on only 5 occasions with the tour leader bringing the meal together, with breakfast always prepared and organised by the tour leader. This allowed the group to have more free time or time to do activities or have longer to sleep in in the mornings. To contend that the tour is nothing but constant driving, sleeping, and organising tents and meals is misrepresentative of this tour. There are busy days and our travellers like to be prepared for the following day's game drives or trekking. The nature of our tours then does mean that some nights people do wish to go to sleep early. We encourage this, and where the night is one surrounded by animals, an early night is often preferred to take in the sounds of the African bush. On the other hand there are also times when there is the chance to enjoy local entertainment for example in Kisoro with the drumming and music performed by a local pygmy group at the hostel or enjoying being around the camp fire for example in Kalinzu. No-one's debating as to whether there are flights in and out of Kigali or Arusha. We start and finish tours in both destinations, and regularly assist with budget domestic flights to add on a highlight quickly where our travellers are short of time. So yes you can fly as you mentioned in and out of these places, but this is not what an overland tour is about. This isn't the place for an extended debate on the ins and outs of independent VS organised tours. There are advantages and disadvantages with each style of travel. The true cost once you start pulling all the additional arrangements together to accompany a flight usually do add up though it is worth noting, and these arrangements don't often work out as conveniently as might be anticipated. A flight within East Africa can easily cost between U$100 - U$200 and there are no direct services between many places. It can take a day just to travel between a destination like Kigali and Zanzibar or Kilimanjaro. Nor is there the same backpacker infrastructure in East Africa that might be anticipated if you have travelled in Asian, European or other destinations. Direct flights between Arusha and Kigali e.g. to combine the gorillas and Serengeti and Ngorongoro don't exist, and then once in Kigali, to cross the border to Uganda for the cheaper gorilla permit, you would need to make your way to Kisoro or further by land using buses, taxis and then stay overnight. Otherwise in Rwanda the gorilla trekking permits are now $1500. Once in Arusha to arrange a low cost trip into the Serengeti and Ngorongoro Crater can be very difficult without waiting maybe a few days in Arusha until a group of independent backpackers are all available to go at the same time, so as to reduce the vehicle hire, vehicle entry fees, guide hire, transport expenses, food costs. These costs are on top of lodge/camping expenses and non resident entry fees for both parks. Most travellers into the Tanzanian parks organise their safari prior to leaving home to ensure availability in the time frame they have to travel, and to aim to travel with one of the better affordable operators into the parks. Our aim in overland travel is always to allow each traveller to see the highlights they came to see, travelling at a pace that is enjoyable, as relaxed as possible and to experience local life at a grass routes level which we feel is preferable to just dropping in and out which can happen if you fly in and out of a destination. The nature of overlanding tours is partly about experiencing the views from the road, of village life, varying landscapes, some more remote destinations as well as enjoying the company of your fellow travellers on the tour. The travellers on our trips come from all over the world and from different backgrounds and cultures. This can mean a diverse group of people all travelling together which is for most people part of the fun of joining a tour. People join our tours because they prefer to travel together with others and enjoy the fact that the day to day arrangements along the way are essentially organised, especially since backpacking in East Africa requires a lot of time, patience and organising since ready made tours and day trips are few and far in between and of very varying standards. The level of support and organisation provided by overland trucks can allow you we believe to see a lot at a reasonable price in a secure and fun context. We are sorry you were disappointed with the tour and the group with which you ended up travelling. Our brochure and website make it clear that these are adventure overland tours. They are not relaxing holidays or tours to quickly visit a couple of highlights but rather participatory group tours where you experience the continent from its grass routes and so inevitably more slowly. The travel is by an overland vehicle, and we believe this does allow you to get to see a lot in a short time. The information online which goes into further detail about the style of travel including the Tour Information Packs, which are sent personally to each client to read in preparation for their trip. In this there is a specific section "Life on your Big Yellow Truck" and here we re-iterate our trip style as participatory, adventure travel and the nature of the tours day to day. We also give guides to drive times in the detailed itinerary too although these are not set in stone due to the unreliable nature of travel on African roads. We appreciate there are some long drive days, and a tour of this nature particularly can be very busy. Africa is not the easiest continent to explore - both in terms of logistics and cost. We have gone through the itinerary presented with the crew and all the highlights and core activities were presented. We are sorry though to hear you felt that there were some optional activities that were not offered. Detailed optional activities are listed on the truck as well as one of the folders on board and your tour leader is available to discuss any of these with you at any time. We have noted all your comments, and will follow up to endeavour to always make each day on our vehicles as comfortable and exciting as we can. We can only again emphasise that we are sorry that you didn't enjoy your tour. Feel free to contact us directly if we can assist further.

Southern Explorer

Written on November 15, 2017

Amazing experience. We had a great tour guide who knew a lot about the places we visited and cooked nice meals for us. Really cool optional activities and a goo…

Read more

Absolute Africa commented on this review

Thanks Elena, great to hear you enjoyed your tour!

East Africa Encounter

Written on October 11, 2017

This trip was absolutely incredible. We did the East Africa Encounter and our guide and driver - Peter and Steve were amazing! Peter knew everything there was t…

Read more

Absolute Africa commented on this review

Thank you for your review - what fantastic photos, Emilie! We are happy to hear you had such great trip and will speak to Peter and Steve to let them know your kind comments. Don't forget, Southern Africa is always waiting for you... ;)

Abigail

Zanzibar to Gorillas

Written on September 25, 2017

The trip exceeded my expectations. Our guide Peter was amazing -he's an awesome cook, and made us 3 course meals. He was very knowledgeable and always had a smi…

Read more

Absolute Africa commented on this review

Hi Abigail, Thank you for taking the time to review your tour. We are glad to hear that you ate well throughout your tour and that you saw some of the most incredible wildlife for which Africa is so famous! We will of course pass your comments onto Peter and Steve. Please don't hesitate to come back to us if you feel like exploring more of the continent in the future :)

Kenya and Tanzania, the Component

Written on September 19, 2017

We saw all big fives and more, it is fantastic!

Absolute Africa commented on this review

Thanks for your review Xiao, great to hear you had an amazing experience and we hope to have you back again on one of our other tours.
About Absolute Africa
With over thirty years of experience running safaris from London to Cape Town and living and working on the Continent, enjoy the thrills, laughs, smiles and challenges of Africa with us, knowing that our crew, staff and management are doing all possible to make your safari memorable. In 1979 we crossed the Sahara Desert in a London taxi from Britain to Kenya. The company has grown from there and now operates 10 overland trucks in East and Southern Africa. Our choice of vehicle has changed whilst we retain the core idea of enabling passengers to experience Africa at an affordable price.
Absolute Africa Guides
Absolute Africa Photos

Questions & Answers
Here we have collected and answered the most frequently asked questions.
Is my departure guaranteed?

All our published departures are guaranteed and there is no minimum passenger number required in order for the tour to go ahead, so you can feel safe to go ahead with flight bookings and other travel arrangements when booking with us.

Can you help with travel and accommodation arrangements before and after the tour?
We can book airport transfers and accommodation for you both before and after the tour. This is booked in advance by us with trusted, reliable operators whom we regularly use and is then payable out in Africa direct to the local operator. There is no extra charge by booking through us, it just helps in making your trip planning easier!

When is the best time to go?

Any time of year you are guaranteed to have the time of your life travelling in Africa. However it is worth knowing what sort of weather to expect and what you are more likely to see at certain times of the year.

East Africa has two rainy seasons - long rains from mid March through to the end of May and a short rains in November/December characterised by brief showers. East Africa doesn't have a summer or winter. That being said, the hottest months in East Africa are from December to March. June to August can get cooler, particularly at altitude.

Zanzibar's weather is similar to the mainland. Water temperatures average around 27 degrees all year. For water clarity July through to November, and January to April are usually best. The western side of the island particularly is well protected, making diving enjoyable for most of the year.

Kilimanjaro creates its own weather. Mid January through to mid March can have superb conditions with little cloud prior to the arrival of the rains. From there there is an increased chance of rain, snow and a lot of cloud. From mid June the rains ease and visibility improves whilst it is very cold. Temperatures remain very cold through to the end of August. Temperatures improve again September to October and this is the driest time on the mountain, making for very good conditions trekking during this time. From mid October through to the end of December there can be rain, temperatures dropping on the mountain with the risk of snow from November onwards, through December.

Southern Africa
The rains come during the hot summer months from November to March in much of southern Africa, often experienced as afternoon thunderstorms making for spectacular skies. Cape Town and the Western Cape have a separate pattern with winter rains from June to August, and the Eastern Cape and along the Garden route receive rains on a lot less predictable pattern.

Winter is from May to September. This is prime time for safaris with animals congregating around water holes, making them easier to spot as it is dry season.

Remember weather in Africa, as everywhere, can never be guaranteed. Each country and regions within countries has its own variables as well. The above is provided as a general guide. Note weather can always surprise so be prepared for anything!

Why choose Absolute Africa?

We offer a wealth of experience, having a long history of over 35 years operations on the Continent, with an office in both the UK and Africa. We also have our own workshop and fleet of 10 overland trucks in Arusha, Tanzania, and our knowledgeable, experienced staff and crew will support and back you up all the way. Focusing solely on Africa we are able to offer some original routes on what is a well-carved overland trail, and we are able to do so at very affordable prices.

Knowing you are travelling with a company that has a reliable overland fleet, plus the experience and knowledge-base to deliver all the great highlights - the wildlife, culture, landscapes and fun adventure activities that bring clients to Africa - is essential.

What are the trucks like?

Our trucks are specialised overland adventure trucks which are serviced and maintained in our own workshop in Arusha, Tanzania. They have all the essential features needed to maximise your viewing from the truck, as well as your comfort and security. Truck features include: forward facing coach seats with head rests and seat belts; large viewing spaces for unimpeded panoramic views from the side and front of the truck; an on-board fridge; resource library; personal lockup for your valuables, easily accessible under your seat; fire extinguisher & First Aid kit; and charge points, including UK power sockets to charge your camera and other electrical items, plus additional 12V sockets.

The trucks are also equipped with an all-weather awning, a kitchen area with gas cooker and BBQ grill, trestle tables, camping stools and outside lighting. There are lockers to store your main backpack, tents and the high-density roll mats we provide.

Do I need to get visas prior to going?

Most visas are easily obtained while on tour and are payable on the borders in USD cash, so it is not necessary to get them prior to your trip. This advice applies to most passports including Australians, New Zealanders, British, US, Canadian and most European passport holders.

Feel free to check with us if you are unsure about the visa requirements for your particular passport.