Bus2Alps
Headquarters in Interlaken, Switzerland
OVERALL RATING
4.7/5 - Excellent
See all tours
Awards & Recognitions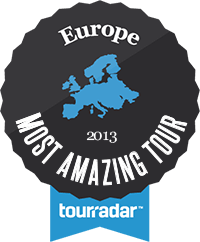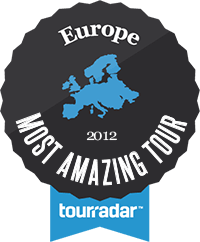 Bus2Alps Guides



+7

Save up to 60%
across the globe
ends on 26 Sep 2017
388 Bus2Alps Reviews
Excellent

90%

Good

5%

Average

2%

Rather Poor

2%

Bad

2%
Accommodation

5 / 5

Transportation

4.5 / 5

Meals

4.5 / 5

Value for money

5 / 5

Guide

5 / 5
Write a review
About Bus2Alps
Bus2Alps are more than just a tour operator - they will become your travel partners and friends, bringing you the fun, safe and professional experience you would expect when travelling with a professional tour company. The trips they offer are opportunities to discover experiences with the other travelers in your group, with their helpful guides able to assist along the way. Bus2Alps aims to open up Europe to more students looking to explore, without costing a fortune and still having fun along the way.
Bus2Alps videos
Main Page Video
Weekend in Ireland
Bus2Alps in Europe
Why We Travel
Weekend in Interlaken
Show more...
A weekend in Croatia
Greece Island Hopping
A Weekend on the French Riviera
A Weekend in Morocco
The Amalfi Coast
A Weekend in Budapest
A Weekend in Prague
A Weekend in Barcelona
Why Bus2Alps
Affordable Experiences
Bus2Alps aims to provide their travelers with the most afforable and comprehensive way to experience Europes top destinations. Traveling with Bus2Alps is a cheaper and easier way of traveling that figuring out train timetables and departures, or trying to negotiate airports and security and waiting for airlines.
Hassle Free Travel
Bus2Alps makes traveling across Europe hassle free, so you can make the most of your time that you have when you go traveling. They organise all the important details, so you can spend less time worrying and more time exploring.
Bus2Alps Benefits
Award Winning Tours
Bus2Alps is continuously going above and beyond, providing their customers with an unforgettable experience while traveling. In both 2012 and 2013 Bus2Alps has taken home the TourRadar award for "Europes Most Amazing Tour". The trip to the Amalfi Coast was voted as the best tour in Europe by past travelers. As well as this, the tour "Florence 2 Sorrento" was voted as the best tour in the world by Hostelworld customers. Because Bus2alps uses the same planning and criteria on all tours that they run, you can expect a high quality experience no matter which tour you choose.
Quality Accommodation
Bus2Alps always make sure to pick the best accommodation available in each destination, so this means when you travel with them, you know you will be staying in the best hostels, with the most convenient locations, that feature the best facilities. They take a mixture of things into consideration, including the hostel atmosphere and youth scene, which is something hotels just can't compete with.
Awards & Recognitions
Bus2Alps Guides
"Life long traveler and advocate. I'm originally from New York living on and off abroad around 7 years.…"

"Graduated from Penn State University in 2012 when I moved to Italy to live the dream guiding American…"
Bus2Alps Story & History
In February 2003, a train strike in Florence left a group of students stuck and no way to get to Interlaken in Switzerland. It was this unfortunate (and now fortunate!) incident that led to Buz2Alps being started.
Since 2003, Bus2Alps has always responded to student demand, more than doubling its growth each year, helping more and more students explore the wonders of Europe. With 4 departure cities (Prague, Barcelona, Rome and Florence), there is now more than 15 destinations where students can join the trips. From humble beginnings back in Florence more than a decade ago, Bus2Alps is now helping students from all over the world to explore and experience Europe.
Questions & Answers
Here we have collected and answered the most frequently asked questions.
Is it possible to join the tour from a different date?

Yes, Bus2alps organize custom tours for large groups. Please contact us and we will be happy to assist you in booking your Bus2alps tour.

Is it possible to organize transportation only in cases where the accommodation is already booked?

Yes, however it will depend on the weekend or trip. Please contact us and we will be happy to provide you with more details.

Are there discounts for booking multiple tours?

Yes, there are discounts for booking multiple tours. If you book 2 trips at once you receive a 5% discount, if you book 3 trips you receive a 7% discount. When you make a booking here at TourRadar we can also apply any applicable Bus2Alps discounts that are on offer, as well as receiving the benefits of booking with TourRadar.

Are group discounts available?

Group discounts can be applied, as well as any of the other great benefits of booking with TourRadar.

Who can join Bus2alps tours?

Bus2alps tours are designed for university students from around the world! As long as you have a passion to explore with like minded travelers you are more than welcome to join!

What is the accommodation on the Bus2alps tours?

Bus2alps stays in top rated hostels in all of their destinations. The dormitory style rooms provides travellers with the opportunity to meet and socialise with other travellers on the tour.

What does it mean if a Bus2alps tour is no longer showing on the site?

It means that the tour is sold out. For more information on Bus2alps tours, you can contact us and we can let you know which tour departures are available.

What to do if confirmation documents are not received?

Please contact us, we will be able to make sure you get your travel and confirmation documents.

What to do if there is a credit card issue while on tour?

Travellers should inform their bank that they would be making purchases in foreign currency, from a foreign country.

Is it possible to change the reservation?

Most likely. TourRadar can help you in booking your Bus2alps tour. Please contact us, we are happy to assist you in booking your Bus2alps tours and provide you information about making any changes.